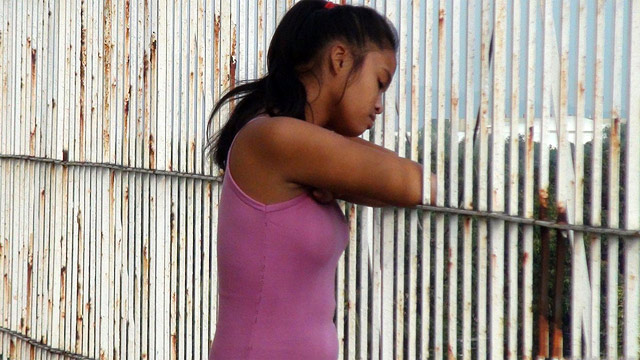 On a day when there was finally no rain, I was hanging around in my hotel room on the computer with some girls, planning a fun night of barhopping and getting excited when all of a sudden I needed a fresh breath of air since it was finally safe to venture outdoors. So to the roof top I went. Low and behold, I found a lot more than air!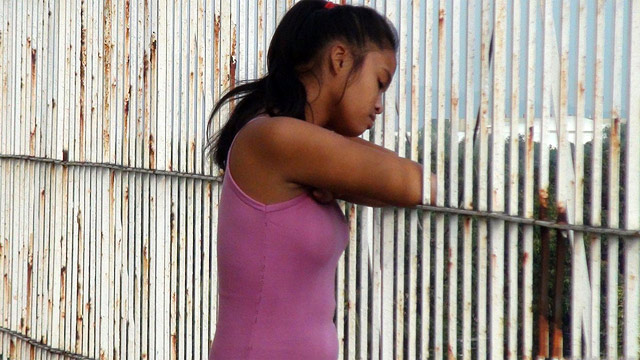 Like any well seasoned Filipina pussy monger, I brought my camera up top with me because you never know when you will find opportunity. I noticed a young slightly chubby girl leaning against the rail checking out the life below on the streets. She divulged that she was staying with family here at the hotel. She told me she's 19 years old and goes by the name Shakira. She seemed more mature and easy going than most 19 year old. I'd have to wonder: 19 going on 40?
Shakira is a little bit of a rough looking girl. Cute as fuck but her roughed up demeanor and metal dental braces led me to think this girl might have once been a schoolyard scrapper at one point. The husk in her confident voice was very sexy to me. That only made me even more curious.. what's this girl packing under that dress for a Filipina pussy? I had to find out. it became evident, quite quickly, that this one has a serious naughty side! The look in her eyes told me so.
JOIN TRIKE PATROL HERE FOR THE FULL HI-DEF VIDEO!
After asking to take pictures of her we moved over to a bit of shelter on the roof and let be grab a hold of her plush, firm big Filipina tits. Once I reached down and caressed the crevice between her sexy legs, I knew, this was exactly where I wanted to be with the slightly damp, but cool breeze up on the roof.
Before I couldn't take in all that was happening so quickly, she pulled out my pork rod stuffed it in her mouth. She sucked my dick right up there, on the roof top, for anyone who might come by and catch us! All this within a few minutes of meeting me. I must add: She IS rather skilled so this must be something she does quite often?
WATCH A FREE TRAILER VIDEO OF OUR IMPROMPTU ENCOUNTER
Her fearless and wanton promiscuous demeanor got me so extremely fucking horny right at that moment. I swear I could have power-fucked my way right through a concrete wall like woody woodpecker on the side of a rotten telephone pole. I could not resist any longer!
I turned her around to bend that sweet slightly chubby ass over to end up in a head-on collision between hairy Filipina pussy and my raging boner, finally found out what she was packing under that dress and of course, she offered absolutely no hesitation, resistance or complaints! What a fucking animal this girl is! I knew I had to bring her to my room before getting caught. I wanted to see her completely naked to inspect her Filipina pussy even further!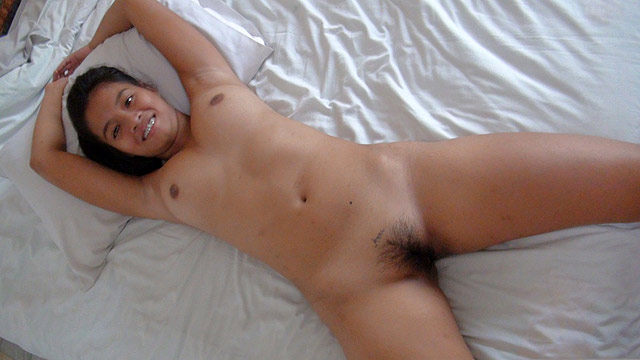 Once in the room, she stripped to nothing, propped up on the bed and practically offered herself to me with no reservations, no holding back and was presenting herself completely to my primal will. It was erotic, dirty, obscene and definitely right up my alley here on Trike Patrol! This seemed like something she was way too comfortable doing in such a matter-of-fact way to be considered a "good girl". I continued to pound her wet Filipina pussy from every angle I could muster. Until I could no longer stop the bubbling deep within my loins that suddenly pumped itself very deep in her Filipina pussy like a confectioner filling a donut with cream!
Laying back in amazement, I could not believe my luck! All sorts of things were going through my head a thousand miles a minute as I watched her Filipina pussy dripping gobs of cum much like a half melted ice cream sammich all over the bed. Wow Shakira! You are one awe-inspiring shameless girl! Thanks!!!
Here are a few pictures that I took during the festivities. I think you'll agree. She has a fuck-me-now body and a pair of very nice big Filipina tits. As you can see her Filipina pussy is not the cleanest "looking" pussy around but it does the trick!!
[nggallery id=7]