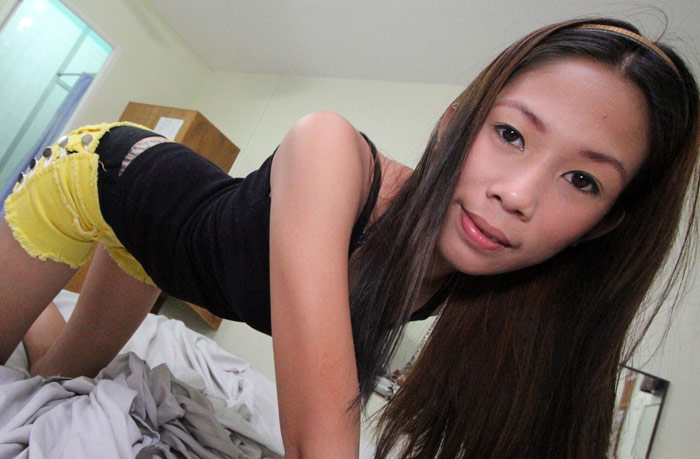 As with the trend last week, I decided to spend some more time online to chat with potential conquests for my Filipina pussy patrol. This time though, time was spent more on the dating sites to see a wider variety of Filipina pussy. Most of the girls are there to hook up with a foreigner for quick cash, long-term support, love and anything you can think of.
I found some success with social networking sites as well. It's literally too easy to find some Filipina pussy nowadays at your discrete disposal. A number of my mongering friends have said that they don't even bother with the bars being a source of fun when planning a trip. Most hit the girls up online then see who shows up once there. That leaves them with a host of potential to pick and choose from. If all that fails, they still have the stand-by of bars on the strip.
Bluntly put, in this day and age of man-kind, you never have to go without Filipina pussy unless you actually wish to go without. Recently I met a skinny girl by the name of Kiana on FB. I noticed that she has that super petite framed body that I crave. Profile pics are great for this. They show what they really look like and not an "Artistic" or "slutty" pose to garner attention. I trolled her with photo comments so she messaged me to ask who I was. I gave her my YM handle and we chatted a bit on webcam. Shew as quite funny and quite down to earth. Time to set up for a date.
Here's just another example of the home-field advantage that I've experienced in last week's update with Camgirl Leeann: Kiana was happy that I was already in town and that it was possible to meet right away in person. Most dream about "mr-right" but lucky for me they're more apt to jump at the beckon and calls of "mr-right-now"!
We planned on meeting for a dinner date the the Lucky Chinese so I got there a bit early to get a nice booth near the back of the restaurant. No sense being on full display in the window for everyone to witness my business. When you are a sleaze-bucket of my caliber, you'll understand fully what I mean. This is a small town in many regards.
She finally arrived:
I saw a skinny legged Filipina girl in jeans shorts looking around like she's waiting for someone then turned around, entered the door and that's when I recognized her. Damn! I wasn't sure if it was her at first but I'm some glad it turned out to be her. I love petite girls like this. She honestly didn't look "pretty" on cam or in her pictures but she has a body I'm after. Lucky for me, the closer she got to me the more I realized that this girl actually is very pretty! I'm glad about the inaccuracies of my initial impression being so evident once meeting her in person!
We exchanged our awkward hellos then she sat down smiling at me. For a young piece of Filipina pussy like her, you'd expect a much more uncomfortable meeting but all in all, I think it went rather well considering. That tells me she is no stranger to doing this. She seemed smarter than most slags around here, made good conversation and once we got through breaking the ice we had a nice meal together.
After we finished our dinner date we headed out into the thick night air where that unmistakable aroma of third world squalor hits you the moment the door opens. Of course, after which, we followed that up aboard 3rd world transportation that Trike Patrol's namesake was named after and headed to my short-time hotel room where I had confidence that I knew where this date was going.
When Kianna went to get changed into clothes that she had brought with her I could not stop day-dreaming about what her skinny Filipina pussy might look like, how it tasted and just how tight it might be with her tiny legs wrapped around me. I got really horny, really fucking fast! We got down to the photography that we talked about but I just could not stop expressing just how horny this girl was making me. Looking at her skinny legs and cute little ass was about to get us into some trouble. Nothing beats a young Filipina girl with a petite little frame getting someone at my age all pumped up and ready to blow. I was boiling over with anticipation of finally exploring her Filipina pussy!
One of the sexiest videos done yet, click here for a clip.
Kiana could sense how arousing this was for me and let me help her out of her clothes to touch her delicious, small, large nipples breasts! I like them, a lot! I kissed, licked and touched them before moving lower until I found her sweet, naturally hairy Filipina pussy. I are her out until she was nearly swimming in her own lubricating juices. She returned that oral favor by softly sucking on my cock. I was already about to explode if I wasn't more careful with this LBFM!
Full video for download & streaming inside members area
That's when I knew what time it was. Time to stuff something hard and wet with anticipation into her slim frame. right at the "Y"! It's fucking skinny bodies like her that makes a man like me feel like King Kong. It's truly heavenly in every aspect!
See a free video of me plugging up her Filipina pussy!
She whimpered at me softly though the whole ordeal. She's not a completely silent girl but she's also not a screamer by any standards. Just then, when I was ready to blow I knew I had to let it go. I buried my dick in as deep as one could possibly do while penetrating Filipina pussy of her size and snugness and pulsed in huge loads of ropey glory all up inside of her.
Enter Trike-Patrol for more and to join for the full video
I shot it in so deep that I thought I'd never get to see it ooze back out for the camera and all of you fans but seconds later there came along a little white trail of creampie tears oozing out of her gaped open Filipina pussy. I will be thinking of this experience for a very long time, even after the bruises she left from her skeletal body beating against me heal!