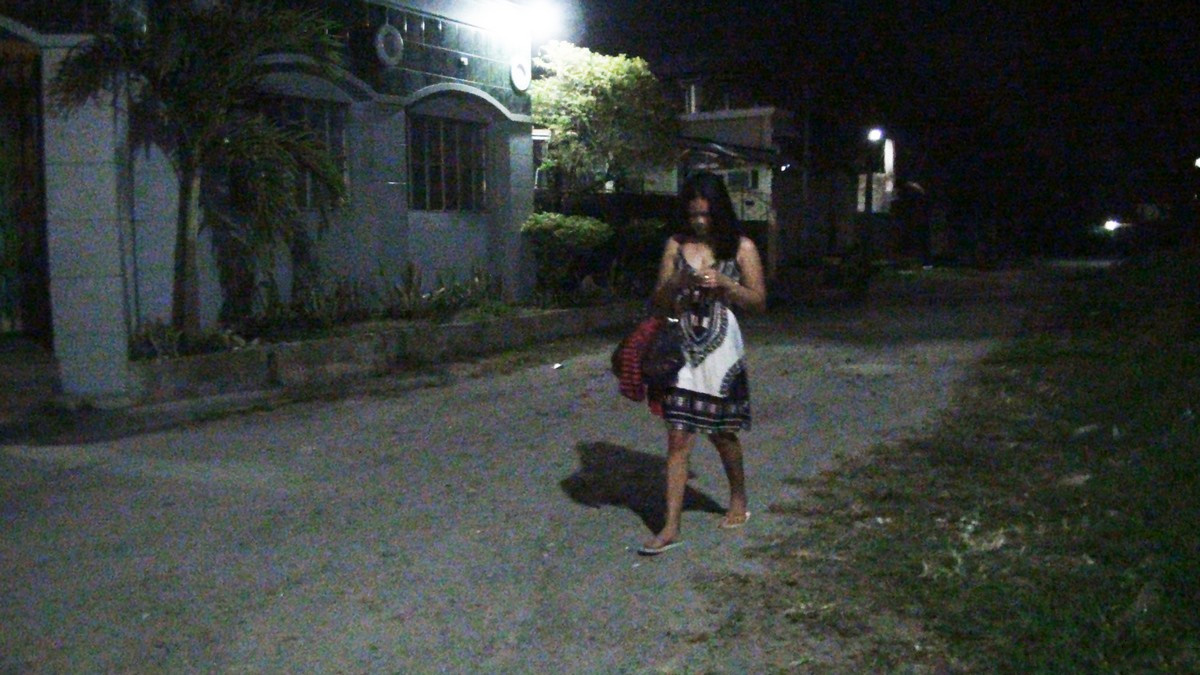 I was around 9Pm when I was walking down a dark Filipino side street. All was quiet except the voices in my Filipina pussy hunting mind. On my quest for new Filipina trim I am beyond self-control by now. The hunger for new pussy has a mind of it's own by now. I was lurking in the shadows of a residential neighborhood behind the hotel like a diabolical pussy troll in hopes of catching a piece of Filipina pussy that may be stumbling home from the bars, regardless of their state of sobriety.
As chance has it, I heard someone coming towards me and I was happy to see it was a female. She was in a nice dress with her nose buried into her cell phone while texting. I went into the light to not startle the poor girl and when she looked up from her cell, there I was in front of her.
Trying to look the least bit threatening to her, I uttered a casual "Hi". She smiled and returned the gesture. Thankfully, she seems comfortable. She told me her name is Irish but her cell rang a quick moment later. She never answered it. She told me it was a friend she was going to visit. After some small talk I threw some compliments her way and asked if she would like to hang out for a bit instead of going to her friend's. This 23 year old slightly chubby Filipina agreed to it and admitted to being a "malibog". That means she is horny and likes foreigners. Finding this out, it was like striking gold. The Philippines cam be amazing that way, Filipina pussy is always just a few short words away! We hopped into a trike and went to go to my hotel.
Join to watch the full pickup video right here
With some tom-foolery in the trike with my night-vision camera mode on, we finally made it behind closed doors at my hotel and I could finally see all of her under bright lights. She's not too bad looking at all with a slightly chubby build to her body. Healthy. Not fat! She's by no means a spinner but could still easily fit in your lap with ease. She is built very solid and has a sexy shape to her. Irish is keep the how the game is played here so I knew exactly what to expect from her. She had a friend to meet in about an hour so I got right down to some breast fondling and of course.. making sure my dick met Irish's mouth as soon as possible. Dick, meet Irish's mouth. if my white weasel could talk it would have said: "Nice to "meat" you!"
She performed a very confident and resolute blowjob. She is not one of these boring "kiss and lick" type of girls either. She knows how to suck!
More pictures and video of Irish in here – Enter now!
Time was starting run down so I turned her around, picked up her dress and stuffed my dick into her chubby Filipina pussy from behind. What a rush! I felt a rush of adrenaline surge through me and the feeling of trashing my dick into new Filipina pussy like this is unlike anything I could describe. I don't need drugs, there's no need! Pussy is my drug and I'm a total fucking addict! There is no hope of recovery for me until I whittle my dick down to a stub! I also had to take my chances at throwing her into many other positions; on her back, more doggie, with my tongue buried deep into her hairy snatch and of course with her riding me cowgirl style! She has a surprisingly tight snapper!
I patrol, film and fuck so much Filipina pussy, click for more!
Irish was thoroughly enjoying her sorbid quikie as well. The sound of this bitch moaning in heat as I slammed her Filipina pussy from the rear was quite obvious of that prior fact. Short-time off-the-cuff encounters with strangers like this is more exciting than dating, that's for sure! There's something so primal about it! I think these girl would agree as well. They are able to act like a slut with little to no worry about being judged like their boyfriends and husbands would.
The best part for me though was how this episode of sexual debauchery ended, as evident in the title of this entry. After much Filipina pussy stabbing as I could give her before time ran down, I filled her with tides of passion juice which I could no longer hold back. I injected her scandalous twat with as much spackle as I could give her in doggy position. That's not so unusual for me but what was unusual was what happened when she tried to sit back down again.
Join Trike Patrol for the full creampie video!
Sounds of one's body can be infinitely hilarious in the right frame of things. Burps, farts and stomach noised are fine and dandy but one that stands out above the rest is one that's like a Clouded leopard of body noise, quite rare to hear and much rarer to get caught on film in it's natural glory. Lucky for you and me, the sound of Irish's pulsing creampied Filipina pussy releasing an emphatic Filipina pussy fart (queef) was in plain sight (and sound) for my camera's lenses to capture. Maybe I should donate this video to Nat Geo for some biological research considering how rare this moment is to be captured on film. What do you think? Forget about it.. I'll just save it for my crew of the best Filipina sex fans on the internet, you! In celebration of this Filipina pussy fart caught on camera…