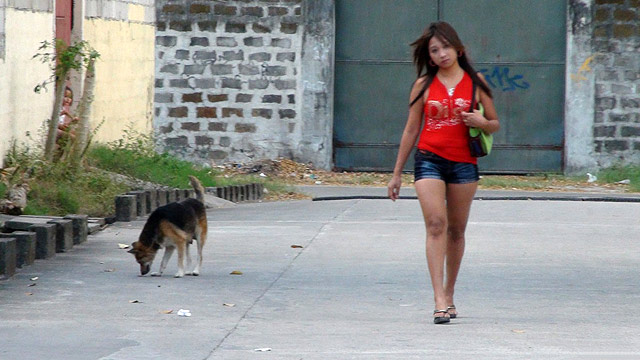 Hi guys, earlier in the week I was walking on my way to grab a Trike when I spotted a potentially fun looking short-time fuck in red heading towards me on her way to the Trike area. I was in a backstreet area off Fields Ave so I assume she was leaving her own home to head out somewhere. There was a dirty looking dog that followed her along the way that made me think about the lack of differences between the mutt and myself. One was a scruffy Filipina pussy monger while the other just a scruffy 4 legged fuzzball.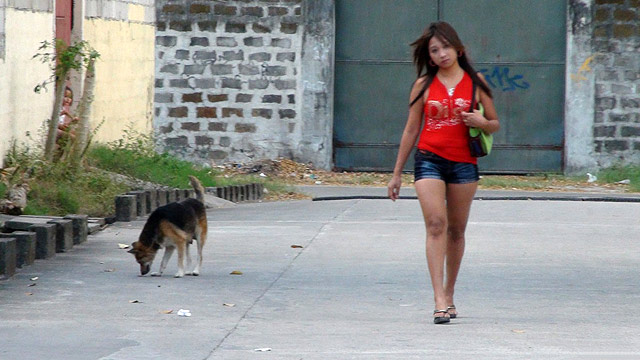 As this pretty Filipina got closer I noticed how her face was quite cute and that intrigued me. She also seemed a big surprised to see a white foreigner in her neck of the woods. I played the "I'm lost" game and approached her to say hi. So far so good! She told me her name is Crystel and that she was ok with me accompanying her to the Trike area. I had to act quickly if I wanted to get into her shorts for some early afternoon Filipina pussy! I joked around a bit then dropped my famous one-liner bomb of a question: "Would you like to join me at my hotel for a while?" She responded with an infectious smile and an "Ok!" Damn, she's very cute!
FREE TRAILER VIDEO OF HER USING THAT MOUTH ALL OVER!
Once in my hotel room, she seemed a bit apprehensive but it was obvious she was also no stranger to this type of scenario. She eventually assumed the position I was hoping she knew when being in a strange foreigner's hotel room. On her knees! She gave a fairly energetic and thorough oral treatment with lots of cock jerking, ball licking and even massaging my nipples with her lips. Man is she every cute! She then laid on my bed and spread her legs to reveal that wonderful Filipina pussy. It's not smooth but is very well trimmed. She definitely had her crotch presentable for a reason! We practiced some mutual masturbation for awhile and watching Crystel masturbating her clitty definitely was a huge turn on for me. Filipina girls tend to do a very good job visually when doing themselves!
By the time I finally stuffed my dirty dog dick in her moist Filipina pussy, I was relieved at how fucking tight it was! By the way she was intensely groaning and making faces I knew she was having an orgasm the second her eyes clenched shut and her pretty face pointed skyward! If I could have gotten into her mind right then I would bet she was in her own little special place during that moment and hoping her tiny Filipina pussy could handle my overwhelming westenr girth! Much like a clash of Civilizations, it was apparent my western sword conquered this tight Filipina sprite just by the way I was thrashing and smashing in and out of her cock muzzle.
WATCH VIDEO OF ME FUCKING THIS BEAUTIFUL FILIPINA PUSSY!
After many position changes and a very well deserved doggy style fuck deep up her Filipina pussy, I finished it off in a way that any self-respecting pussy monger would to honor nature's intentions of sex. I injected a steaming load of cum deep up inside her Filipina pussy until her fleshy innards were full of my DNA! Hopefully there's not going to be a litter of John T Tourist pups 9 months from now but then again, someone has to take over the Trike Patrol legacy in 2031, right? I have many years of mongering left in my but my dick is bound to fall off at some point from all the abuse I put it through.
Here's some of the pictures that Crystel let me take of her before, during and after the sexual festivities. I hope you like them. There's 188 hi-res pictures and 25 minutes of HD-VIDEO featuring her heart pounding pickup, flirtation and of me pounding her tight Filipina pussy!
[nggallery id=9]